Harry Awurumibe, Abuja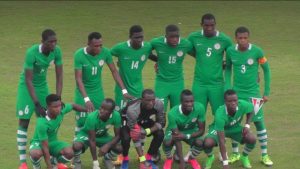 Apparently to ensure that players of the various age-grade teams do not go home empty-handed after each assignment, the Nigeria Football Federation (NFF) has asked the teams to win the FIFA World Cup and share the bumper appearance fees from the world football governing body.
This much was disclosed by the NFF President, Amaju Melvin
Pinnick who told journalists who participated in a media call on Monday morning that he will be submitting a proposal to the NFF Executive Committee to that effect, and would equally interface with Nigeria's Minister of Youth and Sports, Sunday Dare on the proposition.
According to him "Nigeria's age-grade football teams will soon know whether they will be able to go home with the entire cash pot from their appearance at FIFA World Cup tournaments".
Speaking further on what he termed
"Boon For Age-Grade Teams", Pinnick disclosed that, "We are looking to still keep the age-grade teams in business, despite priority being given to the Super Eagles and the Super Falcons. But there will be conditions. They will earn no match bonus or camp allowances and we will only be able to take on board the minimum technical and backroom staff as specified by FIFA and CAF.
"However, if any of the team goes ahead and win the World Cup, or performs well enough at the World Cup to earn appearance fee, that money will be shared by the entire team. The NFF will have no part of it. That will be the boon for them, the incentive to perform".
Meanwhile, the NFF President has insisted that youth football development is very dear to the heart of the present Executive Committee of NFF hence it takes serious issues concerning the age-grade teams.
Said he,"Our Youth Development programme is on course. You know that is one area the present NFF leadership is passionate about. Before the pandemic forced a lockdown, our NFF/Zenith Bank Future Eagles Championship was at the level of the zones, and once we are given the green light, that competition will proceed apace. It is a project most dear to our hearts and we cannot afford to treat it with cavalier attitude.