Harry Awurumibe, Editor-in-Chief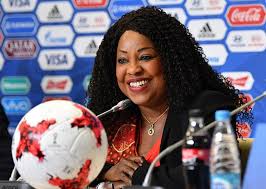 In line with its continued commitment to promoting good governance and compliance in confederations, member associations and across football, world football ruling body, FIFA has announced the agenda and keynote speakers who will participate in the third edition of the FIFA Compliance Summit, which will take place this year in a virtual format from 12 to 16 October.
Bringing together governance and compliance experts and practitioners from across football, including FIFA member associations and the confederations, this year's FIFA Compliance Summit is the third edition of the event and will see participants take part in a range of working sessions and panel discussions designed to share knowledge and best practice, as well as emerging trends, in the field of compliance.
Separated into two parts including opening and closing sessions, which will be streamed live on FIFA.com, and dedicated virtual workshops for FIFA member associations and the confederations, this year's summit will also see several leading voices from football and other sectors join the discussion.
Alongside FIFA President Gianni Infantino, who will open the summit, former US Attorney General Loretta E. Lynch has been confirmed as a keynote speaker on Monday, 12 October.
The first-ever FIFA Compliance Handbook will also be presented. This new handbook is aimed at providing confederations and member associations with a practical, interactive and simple document that outlines the basic principles and benefits of implementing compliance systems in sport federations. It consists of scalable building blocks that stakeholders can use to develop a compliance programme that better meets their organisational needs.
Speaking ahead of the 3rd FIFA Compliance Summit, FIFA Secretary General Fatma Samoura said:
"Underlining FIFA's commitment to strengthening good governance and compliance in football, the FIFA Compliance Summit plays a key role in engaging FIFA member associations and confederations, helping to share knowledge between practitioners and experts as well as discuss emerging trends and the challenges that football is currently facing.
"With football continuing to be affected by the COVID-19 pandemic in many parts of the world, we are delighted to be able to host this year's FIFA Compliance Summit in a virtual format for the very first time, as well as announce several world-leading experts who will share their knowledge and experience throughout the summit."